ZapperZ took me back to another of the Windy City Pin Traders (WCPT) monthly pin meet at Fuddruckers in Addison, IL. There were a lot of people this month, and they were all giddy trading Disney pins. There were a lot of pins, and I'm a bit weary being a among this many sharp, pointy objects. So I had to make my way through the various pin bags very gingerly.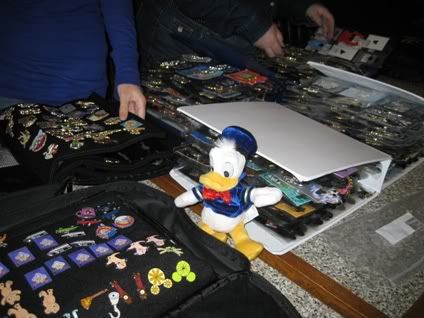 While I was making my way through the maze of pins books, I bumped into my old friend, Figment. Hello Figment! It looks like he was busy trying to collect money. As I recall, by the end of the day, someone actually paid money to take him home..... Hum, that didn't sound right, but you know what I mean!



I was told that the theme of this month's meet was Halloween, and so, some people brought candies to the meet. ZapperZ has this cute bags to put candies in - they have Mickey and Minnie on the front. So I went over to the two bags to get some candy. There were plenty at that time, but by the end of the day, they were almost gone. Yum! I love Raisinnetts!



Oooof! Bumped into a box....... full of pins! Of course!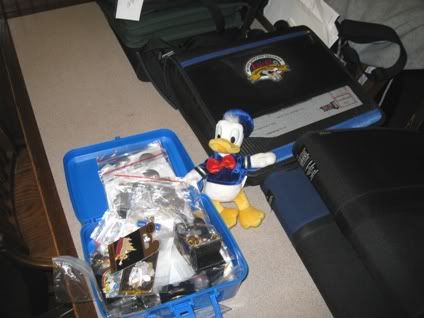 Humm... what are these stickers for? Oh, I see. They gave paper name tags to people who didn't have name tags, and they can choose a sticker to put on the name tags with their names. You get these stickers for free from the various promotional mailings from Disney Movie Club.



So here I am, at the Claw Machine game that they have in this Fuddruckers, and I'm on my last quarter trying to get one of these plush toys. I thought I might find my friends, the Little Green Men, but they are nowhere to be seen. Instead, I see Tigger and Eeyore, etc. I was trying to rescue them out of this, but I just can't seem to get then out. Where are Nemo and the Tank Gang? They would know how to get out. Does this thing have a filter that we can clog up?



All that effort trying to rescue my friends from the 100 Acre Wood made me hungry and thirsty. ZapperZ bought me a strawberry shake. I think he bought too much. The glass was bigger than me! Now, if only someone can lift me up to the straw.......



It was a long day, and I was all quacked up by the time we got home. I slept very well last night.

DD.