ZapperZ has an office that had been called by the people he work with as the "Happiest Office on Earth". But he had to move to a new office in a different building a couple of weeks ago. How will he decorate his new office? Will it still be the Happiest Office on Earth?

He finally invited me to visit his new office last week. I get to go around to different nooks and crannies to see all his new decor and visit some of my friends.

This is his new office table. It's very nice, especially when I get to see my old friend Pooh on a coffee mug. ZapperZ also has a nice frame with me and my other Disney friends. Hi Pluto!



Of course, Mickey has to be everywhere. He's even peeking over the top of the desk. It looks like he's interviewing for a job!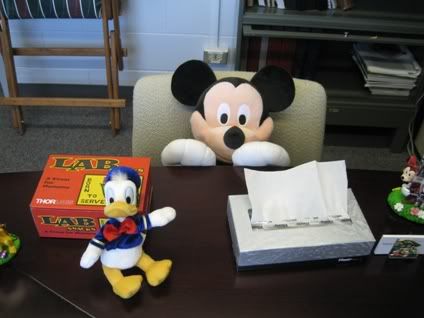 Mickey table lamp. ZapperZ puts this with the rest of his coffee/tea service. Mickey actually talks every time you turn him on and off.



More of my friends, and Mickey again. This time he's holding up a pin board, in case we forget that ZapperZ is a huge pin addict.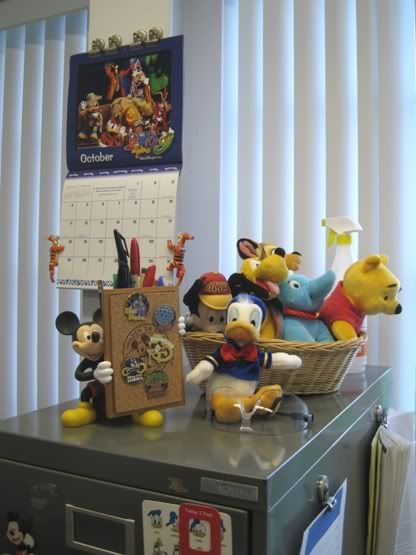 Now I like this. Large pictures on the wall. But where are pictures of ME?



ZapperZ has a nice desk set. But it is all with Mickey!



Still, just to show that I have no bad feelings towards that mouse, I spent some time visiting with Mickey and Minnie since they were just hanging around and doing nothing.



More of my friends. At least there's a cute figure of me here.



Hey, this bookshelf is rather high. Get me down!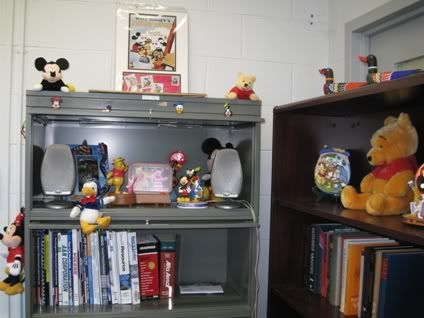 Well, anyway, I spent a lovely day at ZapperZ's office. I don't think he can squeeze any more Disney stuff in there, or there won't be room for him.

DD.