With the end of 2008, it marked the ends also of the Year of a Million Dreams. While I think the general public who are not Disney fans did not really either realize the promotion, or were rather indifferent about it, the rest of us who are Disney fans certain were acutely aware of the promotion and always were looking to get picked to receive something, the ultimate prize being a night's stay in Cinderella Castle Suite. For a promotion that was originally slated to run for a year, it ran for 2 whole years and continue to award a lot of guests with various prizes.
As a Disney junkie, I know that I always wanted to be picked (who doesn't?) for one of these things. We were lucky once when we got the Dream Fastpasses at Disney-MGM Studios (it was called that when we won it). But I've always wanted the Dream Ears hat and never was awarded one. Still, after I helped arrange a WDW trip to a friend and his family, wouldn't you know it that they got picked to win the hat! The two parents graciously gave me the two hats when they got back (the two kids kept theirs, of course). So I ended up with 2 Dream Ears hat nonetheless. Still, I would have preferred to win it, and this past December's trip was our last chance. Alas, we didn't even come close, so that was the end of our chance.
I thought winning the ears was a more realistic "dream" than dreaming about winning a stay at Cinderella Castle Suite. That's why I wanted those damn ears in the first place! :) Still, it's always a nice thing to read in the news when a family got picked for that ultimate award. I wasn't even envious because it was such a small chance of being selected that it might as well not be there.
But in the category of 6 degree of separation, a friend of a friend actually got lucky enough to be picked to win such a stay at Cindy's Castle! So I finally got some in-depth account, rather than just superficial news reports, on what it was like, and how the inside of the suite really looked like, more than what news reports and press releases described. And the good thing was that these people were also Disney fans. So not only did they truly appreciate the enormity of what they had just won, they also were rabid enough to snap tons of photos (and grabbed everything that wasn't nailed down, but that's another story :)).
They have graciously shared the pictures they took with their friends, and I'm a beneficiary of some of those pictures. I've omitted pictures that identify them, and have scrambled pictures that they scanned that had their full names, mainly to protect their privacy as one can imagine, but other than those, these are some of the pictures they took. The detail of the Castle Suite is simply jaw-dropping.
So thanks to the Wolfe family for sharing the photos. And thanks to Ralph and Patti for sharing them with me.
I think these pictures show them being escorted into the suite by a Guest Relations cast member after they were picked.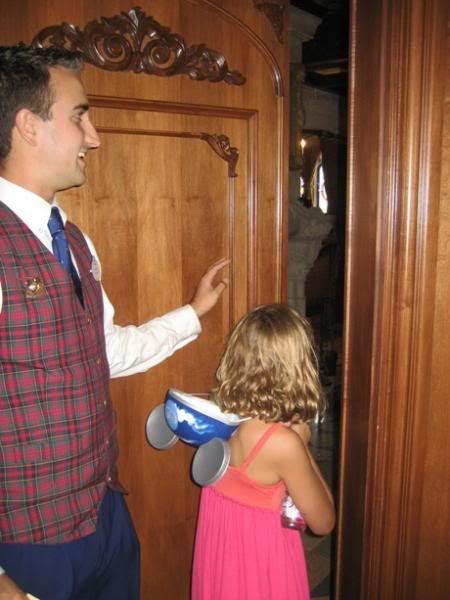 The following set of pictures are all the interior shots of the suite, some of which we have seen before in earlier released pictures.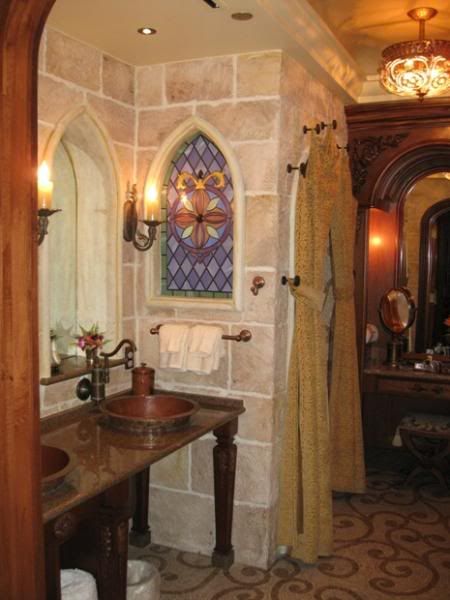 Of course, the bathroom was quite elaborate, especially the tub.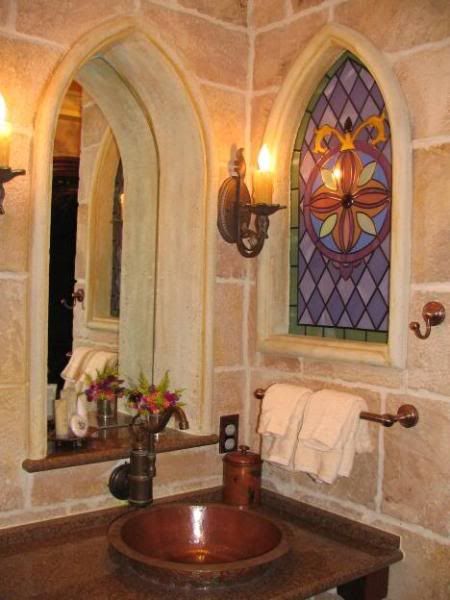 The toilet is truly, literally, a throne! :)
Ceiling and floor tiles.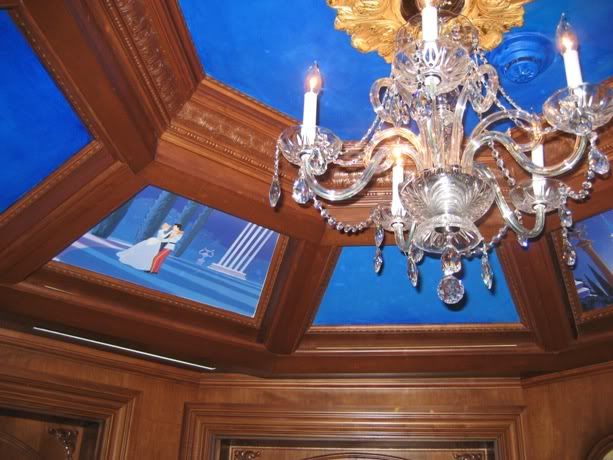 Bedroom.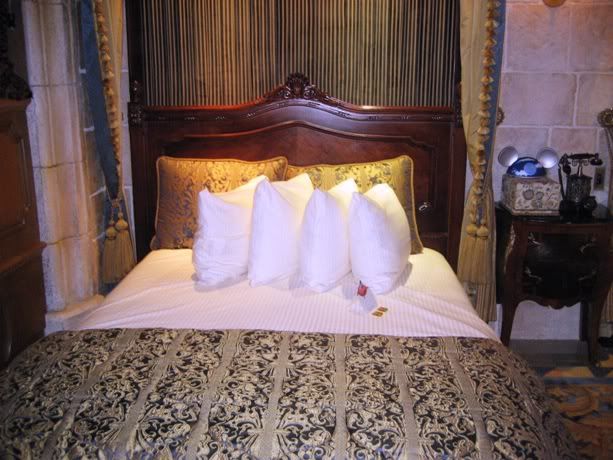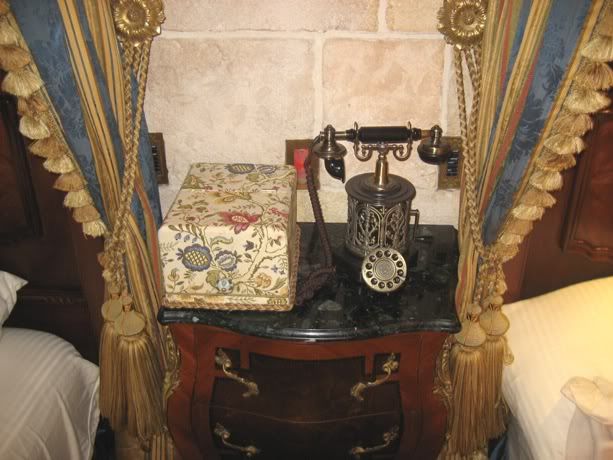 If you think that chocolate mint they leave for you on your bed was fancy, wait till you see what they got served. I was told the white vessel that contains the chocolate-dipped strawberries was made of white chocolate. That's insane!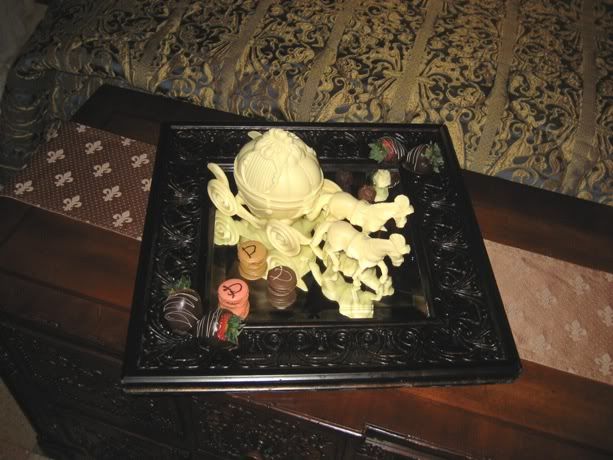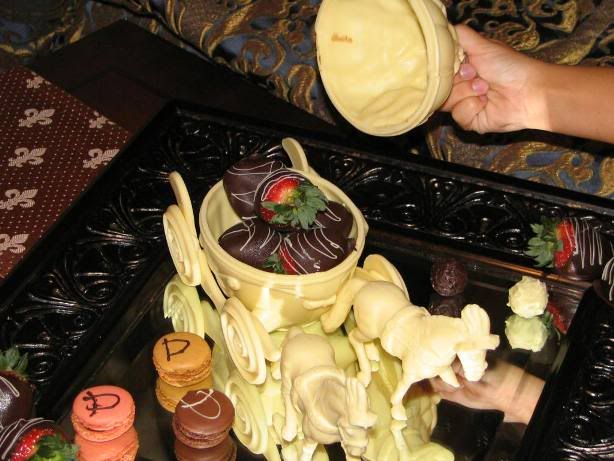 Various other interior shots.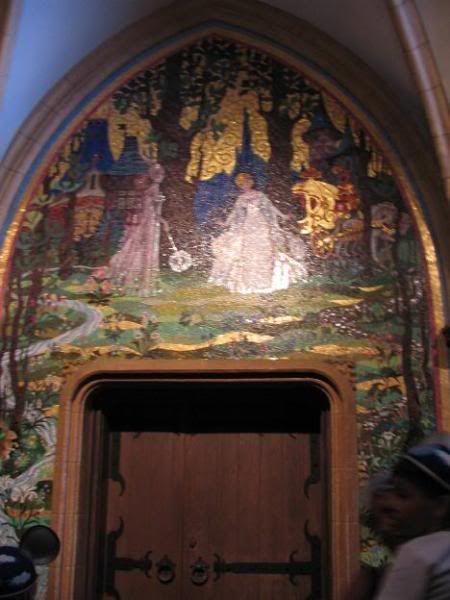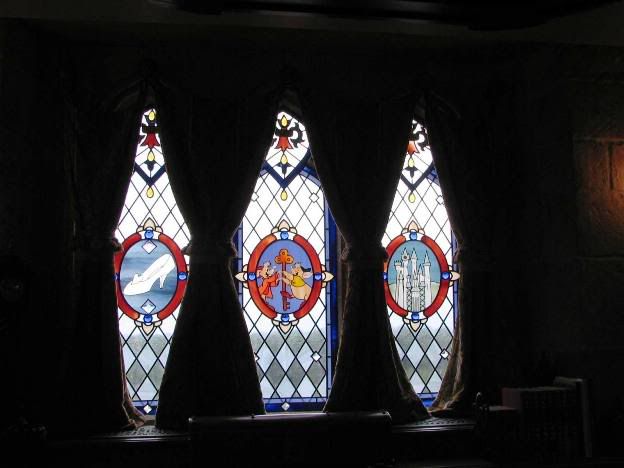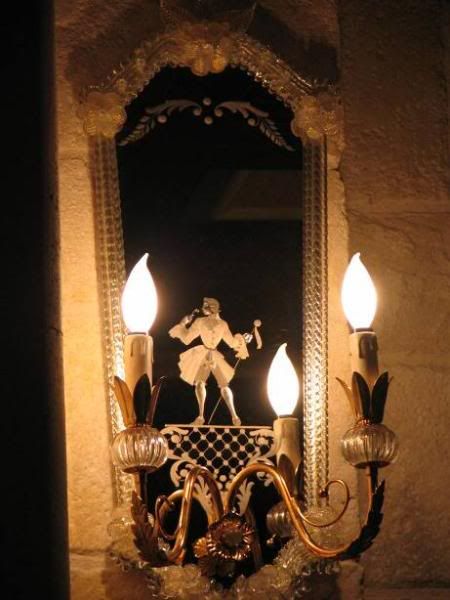 Cindy has a lot of stuff in those display cabinets.
She shouldn't leave her glass slippers lying around like that. :)
.. not her crown.
Cindy also had time to read. She obviously loves biographies. :)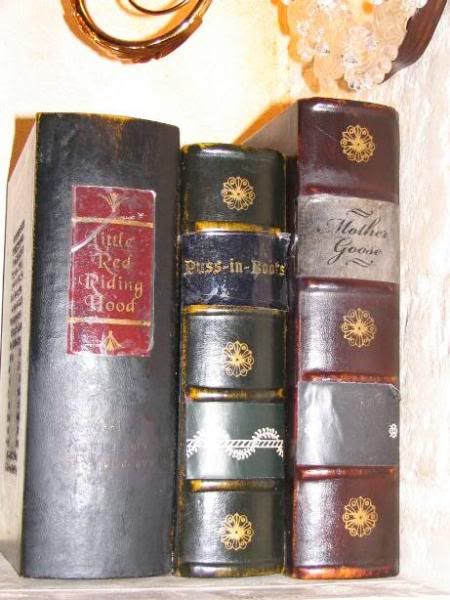 The lucky guests obviously get chauffeured around in a specially-marked vehicle.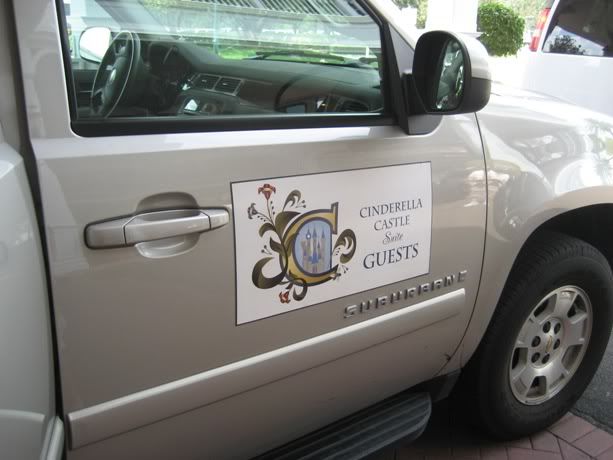 And have their own parking space.
The Suite has a guest book that all the selected lucky guests get to sign. So you can read who else have won the Castle stay. I've scrambled the writing and names on the page.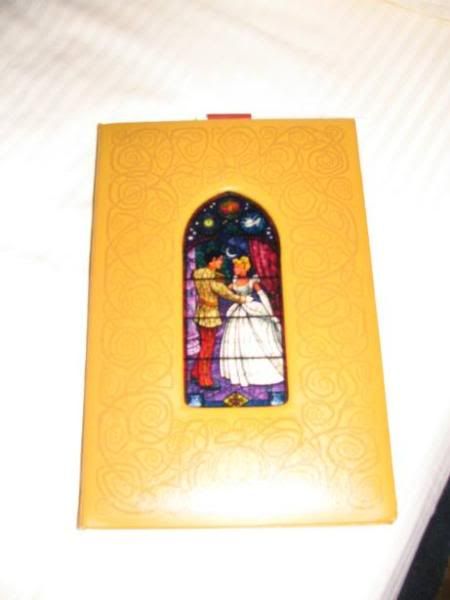 The Wolfe family also scanned the mundane stuff that they either got, or were in the suite. This is just exactly the thing that *I* would have done, and I would think, any big Disney fan would have done. So BRAVO and thank you! We love seeing these kinds of details!
They got special key card for the castle.
Nice "certificates" signifying their win.
Privacy notice that one hangs on the door? Now who would barge in to the suite to disturb them? If Cindy's home, I would think that she's more than welcome to drop for a visit.
Nice to know they can still watch all the Disney channels while staying there.

They also took the postcard and the notepad (YES!).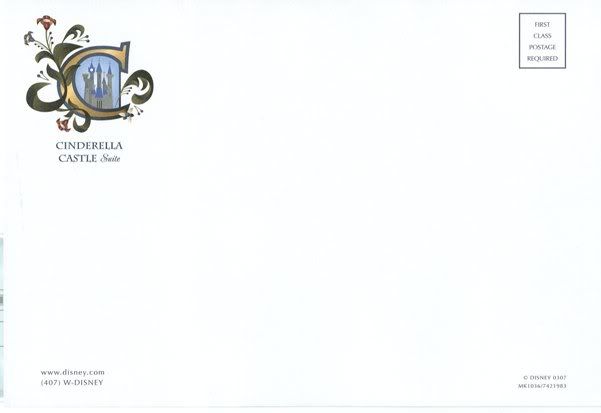 These are obviously notes left on the bed.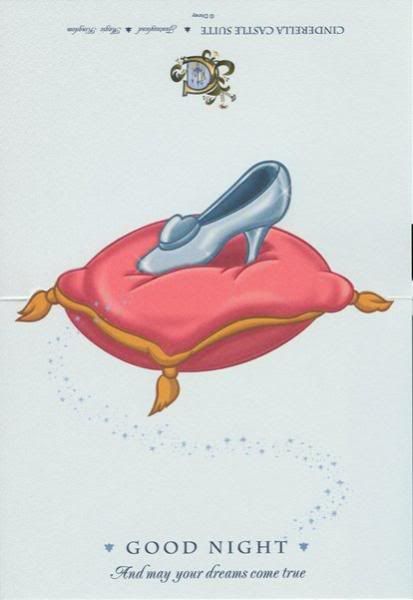 Ah, how nice. While I never won such a thing, I can certainly live vicariously through such photos.
Edit
: there are
more pictures of Cinderella Castle here
.
Zz.