Continuing with my fractured trip report, this time it will be the coverage of Epcot's 25th Anniversary Celebration, starting with the anniversary eve on Sept. 30th, 2007. This celebration, of course, was the main highlight of our trip, and being a part of Celebration 25 made it even more special.
The festivities for the group started on the 30th where we picked up our special lanyard and other items at a table set up for the group outside the gate. Several members, and the organizers of the event, were there to greet all the participants showing up that day. Already I could sense that this was going to be a terrific group. It was also nice to finally meet some of the people that you've only made contact with online.
These two pictures show Epcot and the commemorative plaque, looking more brilliant than ever.
This is the registration table for Celebration 25
After the rope drop, we went into Guests Relations to make dinner reservations, and I took these pictures on the wall that I never noticed before.
Our first group event that day was the history tour. It was very informative, even when the test track cars kept interrupting him every few seconds. I certainly learned a lot of stuff that I did not know or never appreciated before. The next set of pictures were all taken during the history walk throughout the afternoon.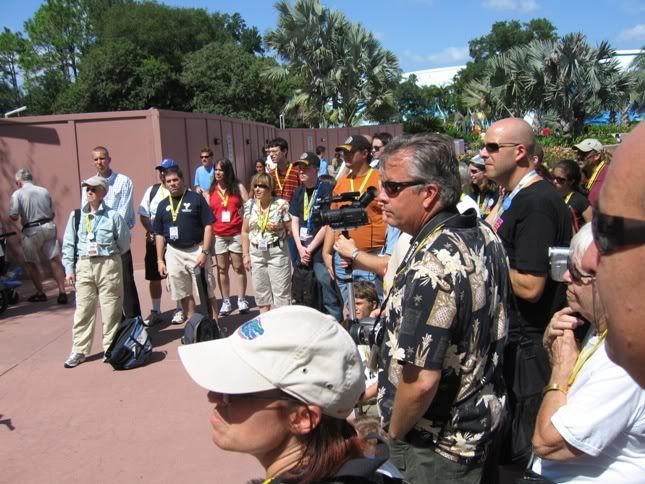 The last location for our history walk was in front of the Fountain of Nations.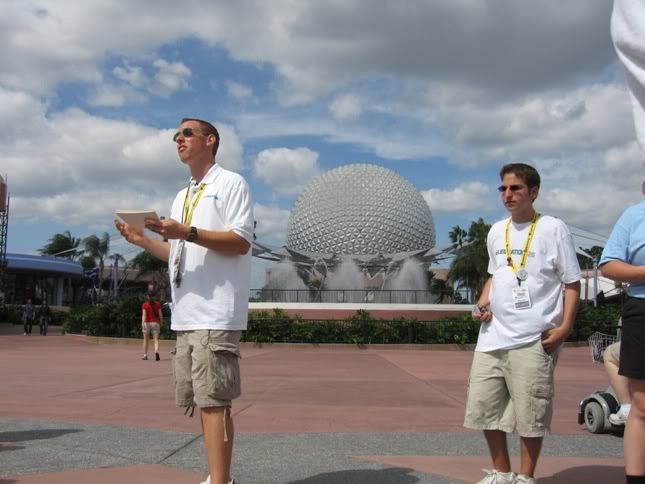 Things were going well and smoothly until our presenter was "rudely interrupted" by a Jim McPhee. :)
Yup! The Vice President of Epcot himself came by. He was extremely gracious and welcomed our group to Epcot and the anniversary event. Honestly, this was the highlight of the day for me. Mr. McPhee surprise appearance made us all feel special that day. It is amazing how something as simple as a welcome from a Disney management member can have such a huge meaning to Disney fans like us.
One of our organizer, Adam, got an even more special treat of having his picture with Jim McPhee right in front of the fountain. The rest of us were rushing to it to snap as many pictures as we could.
When Mr. McPhee left, our history walk presenter thought he could continue with his history lesson, but nooooooo. Jim McPhee came back and gave us a sneak preview of the park map that they will be giving out the next day.
Needless to say, we were oohing and aahing (and snapping pictures) as he showed us the park guide map with the old retro Epcot opening day reproduction. (I made a mental note to try to grab a handful of them the next day). Everyone in the group broke out in a spontaneous applause.
We didn't join the group for the Soarin' ride that evening. We had a lovely dinner at Marrakesh and then headed back to our resort to turn in early since we knew that the next day, Oct. 1st, was going to be a long day. And it was, but it was THE most memorable day at WDW I've ever had.
Zz.