Being a big shot celebrity, I get to go to many places around Disney theme parks. Whenever I'm at Disneyland, I can always get a table at Club 33, so that's where I went last week for dinner.



Did you know that whenever I eat inside Disney, all my meals are complimentary? Yup! I eat for free, and I don't have to wait for any special Disney Dining Plan promotions either! Besides, how much can leaves and grasses cost anyway?

Several of the guests that evening asked me to play a tune on the piano. I had to decline since my webbed fingers are even a bigger impediment to playing the piano than my speech is to human conversation. Still, I took a picture with this old piano for my fans.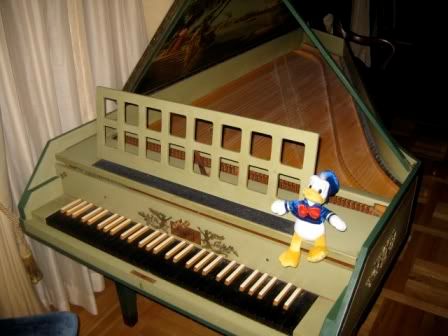 And speaking of fans, just like all those cast members at the Doorway to Dreams center at Woodfield Mall, the cast members simply adore me here as well. Patrick was a wonderful bartender and made me a wheat grass martini. So I obliged when he asked for a picture with me.



I was stuffed to the bills by the time I waddled out of Club 33. I then went to say hi to that nasty dragon before she appeared in Fantasmic.

DD.