I made my first appearance at the Windy City Pin Traders pin meet yesterday. Boy was I mobbed by throngs of adoring fans! I had to run away for a while before the plucked away all my feathers! If I didn't know any better, I'd say those WCPT members yesterday looked hungry!

After it calmed down a bit, I managed to browse around the many, many, many Disney pins that they brought for trading. Here are some of them.



Mickey, of course, just HAD to be there as well. Luckily, they made him tend to the computer that they set up for the various WCPT members to use. I don't know what they used it for. They kept looking at this site call "Dizpins"? What is it? Place for people who get dizzy looking at pins? Where do I sign up?



The WCPT people meet at Fuddruckers in Addison, IL once a month. They told me that the Fuddruckers people here are very nice to them. They even put a few of my friends from the Hundred Acre Woods next to the dates of the WCPT pin meet. Hey there, Eeyore and Tigger!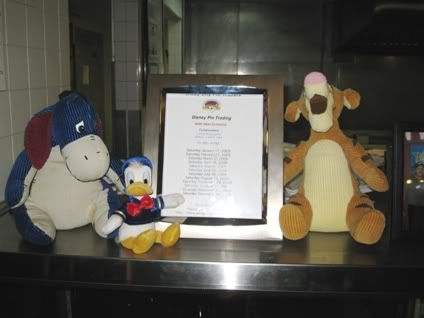 By then, I was starving and needed to place an order. I was told that they have a good veggie burger here, and sweet potato fries!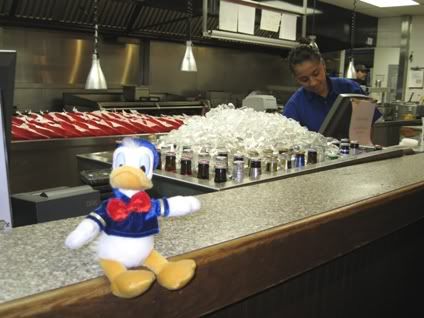 Here I am, waiting for ZapperZ to show up and place my order. He has the money. Unfortunately, this isn't a Disney restaurant, and I don't get complimentary meals here.

DD.